My mother is an Aquarian - like me. Sometimes I forget that, but she's just as open-minded and spiritually oriented as I tend to be. She's also just as much of an introvert and a dreamer.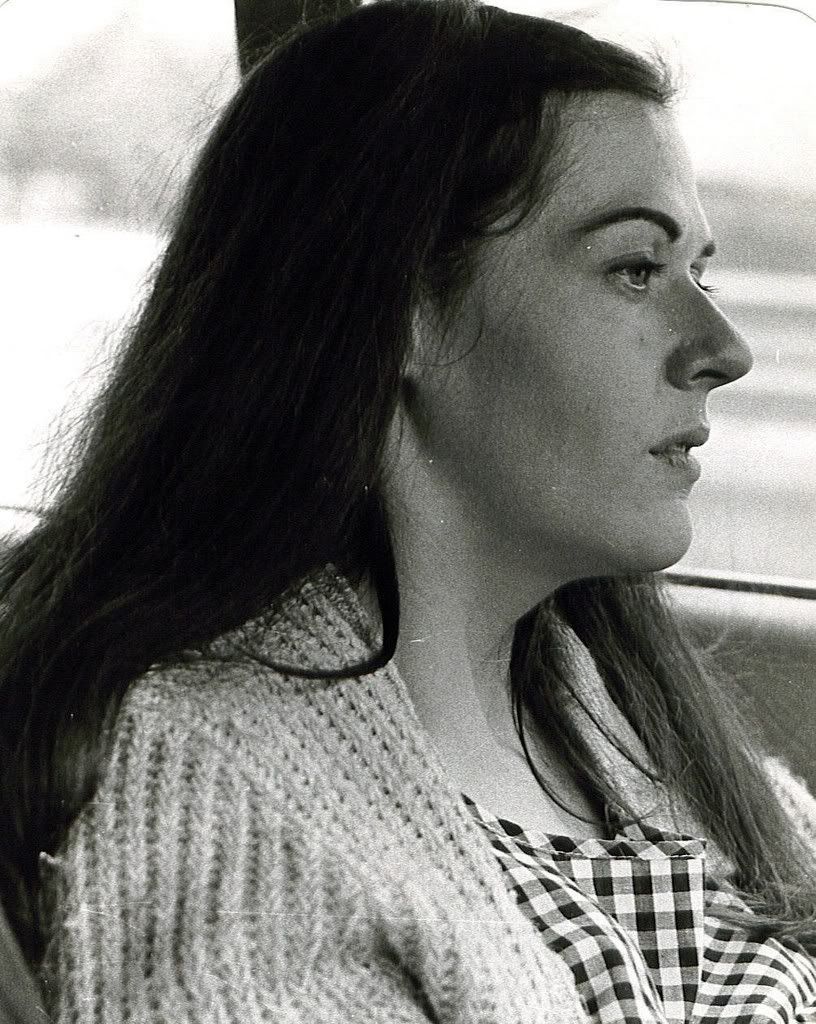 My mother was born in 1937 - which makes her 71 today. She was named Yvonne Cecile, after two of the Dionne Quintuplets.
The following is a picture of three generations. My mother is the baby. That's her mother (my grandmother) on the left and her grandmother (my great-grandmother) on the right.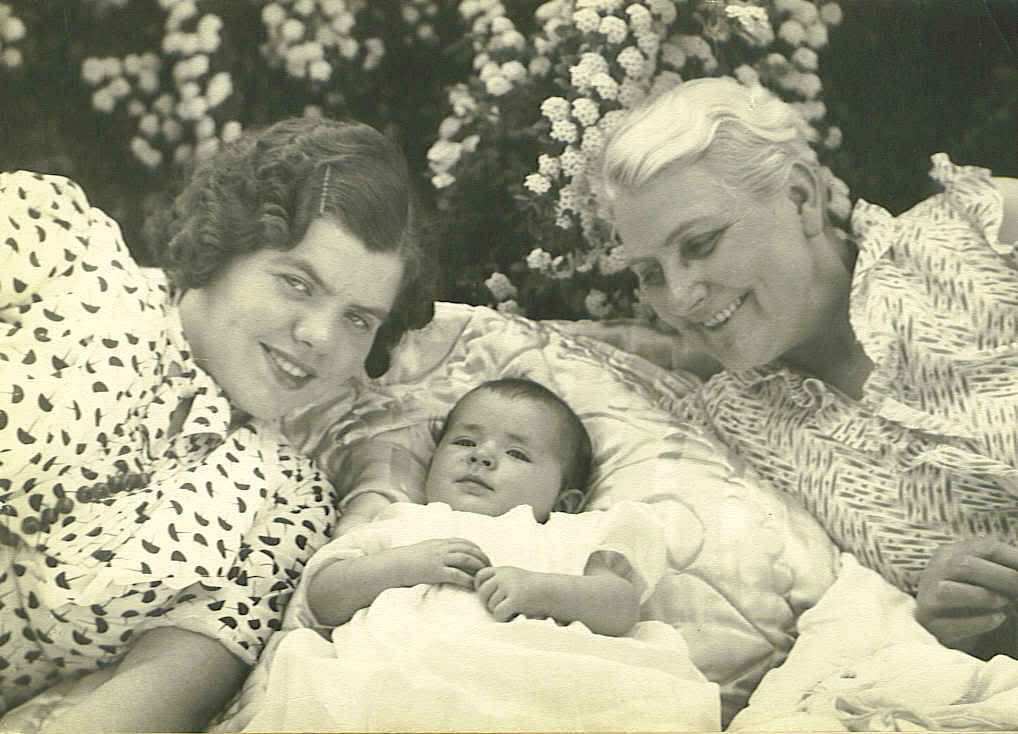 What I remember my mother telling me about her childhood:
Her younger brother, David, was a pain, but she loved him anyway. He was a redhead (which is probably where I get my red hair) and constantly in trouble. My mother hated the shape of her nose and the shape of her body. My grandmother made dessert every single night of the week.

When my mother was fifteen, she dropped out of school to help her mother take care of my uncle Mike, who was born with a birth defect. His skull bones were fused together - he had no soft spot - and so his brain couldn't grow. Today, there would be an operation to help him. Back then, there was nothing, and so his brain couldn't grow inside of his skull and he ended up at the level of a 10-12 year old. She stayed home to help her mother with the baby and never finished school.
In her late teen years, she was in a very serious accident when she was riding in a pickup truck and the door flew open. She was sitting in the passenger seat and was thrown from the vehicle. As a result, she's worn false teeth her whole life.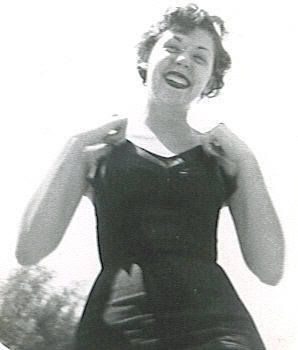 She married young, had children young. She was essentially a single mother for a long time, raising four small children. When she got pregnant with a fifth, she decided to give it up for adoption. A year later, her youngest child, Denise, was killed while crossing the street between two parked cars.
Eventually, she was divorced, and married my father. I'm their only child. They're still married.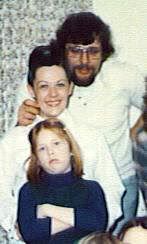 (I was pouting because I wanted to hold the baby - my niece!)

When I think about my mother, I remember:
*The only job I think she ever had was working in my Uncle David's meat market. For most of my childhood, she was a stay-at-home mother.

*She always took off her shirt and vacuumed in her bra

*She read romance novels like they were candy.

*She took very, very long, steamy hot baths.

*She loved Tootsie Rolls and Better Made potato chips.


*But she hated peas and spinach.

*She always sat with one leg and foot curled underneath her. I do, too.

*Sometimes she put my hair in those pink-snap sponge curlers. They hurt to sleep in and made me look like Shirley Temple.

*After my baths, she would always use a blowdryer on me. Then she would inhale the fresh, clean scent of my hair.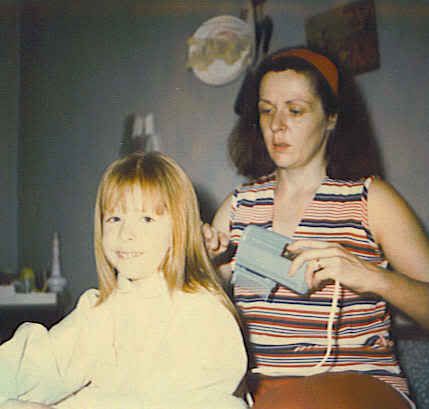 *At night, she always tucked me into bed.
*She made the best barbeque chicken wings ever.
*She listened to lots of Neil Diamond and Jim Croce.
*She made great homemade applesauce.
*She had a hip replacement when I was in middle school - she has debilitating arthritis.
*She smoked those long brown cigarettes that looked like skinny cigars - Mores.
*She taught me how to crochet.
*She let me make tents with blankets and clothespins and sleep in them - in and out of the house.
*She let me keep hampsters, gerbils, rats, and once, a pigeon and a baby sparrow.

*She loved to sing. Especially when she was cleaning.

*She kept practically everything I ever drew or wrote.

*She framed a poem I wrote her for her birthday when I was fourteen. She still has it.

*She liked peppermint schnapps and amaretto but didn't drink very often.

*When I started writing, she listened to me read everything I wrote out loud, a chapter at a time, and always praised and encouraged me.

*She babysat my first daughter for several years during the day while I went to college classes to earn my degree

*She let me sleep in the livingroom in front of the fan when it was hot.

*Whenever I crossed the street when I was little (I wasn't allowed) she panicked and freaked out. Frankly, I thought she was overreacting, and it took me years to realize it was because she'd lost a child that way.

*She made all the food for my first wedding.

*She always lamented that I genetically got her nose.

Top, L-R: My mother, my sister in law Susie, my sister Diana
Bottom, L-R: me, my nephew Ronnie, my niece Jennifer
Very Bottom: our dog, Patches


Me and my mother at my sister, Diana's, wedding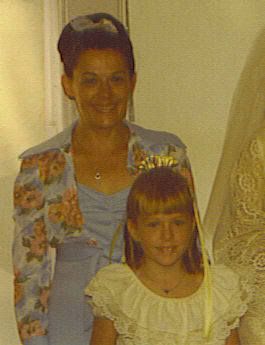 My mother and my daughter, Autumn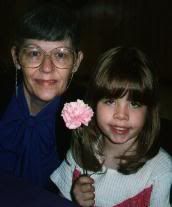 My mother - Christmas 2007