Amazon assured me that I could buy four books for the price of three. Not only that, I could select Super Saver shipping and still get my items by Christmas! Woot!
Then, they sent me an email. "We're sorry..." I hate emails that start that way. Apparently, my items wouldn't arrive until December 28. So much for all my deals! So I had to cancel the order and get to Borders. No four-for-three deals. Granted, no shipping, but I had to pay for the gas to get there - and back. And since we live out in the middle of nowhere, it wasn't negligible.

Plus the cost of the migraine from driving in holiday traffic.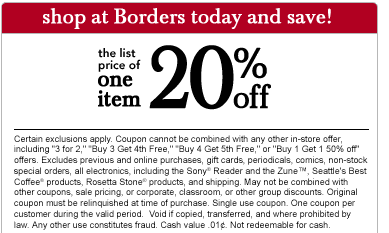 Sigh. Can you say "irony," boys and girls? I knew you could...
So in the spirit of giving, I thought I'd share it here. In case you have book shopping left to do. Merry Christmas!